I am Thank-Full, Learning to See Our Opposition as a Gift.
I am Thank-Full, Learning to See Our Opposition as a Gift.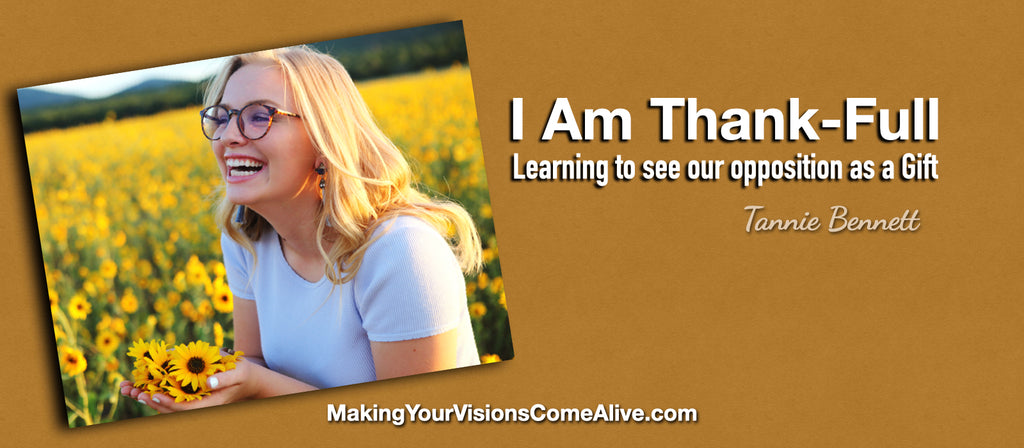 One of the quickest ways to find the gift of our opposition and turn  negative life situations into a positive, is to look for the gift of that situation while you are in it.  
I remember when I was raising my family, I was often frustrated at my teenagers' messy rooms. It was extremely annoying and frustrating to me that I couldn't get them to clean up their rooms. I could clearly see that it wasn't bothering them. So what was my problem? How could I turn this situation around? How could I let go, how could I be okay with this when it really was not what I wanted in my parenting experience? Then I learned a magical technique from Spirit that brought peace to my soul. I learned to see the gift in the opposition of family life.  
For Example: 
I am thankful for my kids' messy room because it gave me a chance to  go into their room and praise them. "Honey, I am so proud of you and how clean you are keeping your ceiling, or honey, I love your carpet preservation technique. You keep it so covered with your clothes by the time you move out, I will still have a brand new carpet." And I did.
Although it took me a few kids and lots of frustration to learn this technique of giving up the control, and letting go of the fight and finding the gift and joy in the opposition, I finally learned it, and by so doing, I learned what was really important. I learned to focus on love  and humor, which helped to strengthened them and our relationship. Yes, letting go and seeing the gift of the opposition became a very significant experience for us all.
Allow me to share a few more examples of what I learned, and how I became Thank-full.
I am thankful for my kids'messy rooms because it is an indication that they are learning through trial and error the importance of order. They, through their own mistakes discover that when we put things in their place, we find them. How many tries did it take us?
I am thankful for a sink full of dirty dishes because it provides an opportunity of service. When it is my kids turn and the sink is piling up and they are very busy, I can do them, and through my actions I will say, "Here let me help you," modeling what I want them to do for others.
I am thankful for my hot house in the summertime. When it's hot it is because there are a lot of friends over or someone is in the kitchen cooking, both a great blessing.
I am grateful for a house full of company. This experience helps me appreciate my quiet, alone times more.
I am grateful for a husband who is often at work because his actions say, "I am doing this so you can be at home with our children to love them, teach them, and be there for them when they are in need."
I am grateful for the pain I have felt in my life. It has been a strong, moving, motivating force. I have learned a great deal from the experience of pain.
I am grateful for experiencing lack; it has given me understanding and compassion for those in need. I have also experienced creating beauty with very little to work with. For example, our first Christmas tree was beautifully decorated with dried weeds that looked like baby's breath, lights and red ribbons. It was beautiful.
I am grateful for obesity; it has taught me a great deal. I have learned compassion for those who struggle, a lot about nutrition, and that diets really don't work because you are focusing on your imperfections, what you don't like about yourself or don't want, not your perfection and what you do want. And most significantly it has kept me close to God.
I am grateful for sibling rivalry. It has taught me about my inner battles. Each time my children fight, I ask myself, "What is this teaching me about me?" The answer is always there. 
I am grateful for my inner guidance system of my feelings; it is such a significant part of my life. It has guided me throughout my life.
I am grateful for everything that bugs me. It is an indication of something inside of me that is in need of resolution. When I see something on the outside I do not like, I go inside to find it and change it. Then it is no longer present in my experience. The Spirit told me once, "We live in a Reflective Universe." It is true, everything you see is a reflection of something in you.
I am grateful for a husband who never complains when I don't do what he expects because he knows in his heart I am doing the best I can.
I am grateful for a husband who would always buy our kids fun things with "money we didn't have." He married a wife who could never afford them because she was always on a budget. He made the kids really happy and we never missed the money. I have since learned to rejoice in the gift of his generosity and to try to be more like him, and focus on our abundance, not our lack.
I am grateful teenagers have to have a driving permit and drive with an adult first. This has given me great talk time with my children.
I am grateful for my experience with illness, it taught me to appreciate how amazing my body really is and what it can go through and that our bodies have the power to heal from within.  It helped me embrace my personal power to rise above my greatest opposition and succeed.  Illness helped me to really know God and know that He is there for me always. 
I am grateful for my son. He has taught me so much about love, laughter, tolerance and what it is like to be a boy. Something I never got to experience.
I am grateful for all the political mail and calls I just received because it is a wonderful reminder that I have a voice and I can use it to make a difference. It also reminds me that I live in a country where we are free to say what we want. We are free to choose. I love America!
I am grateful for my pain, it taught me to be humble, and to learn how to receive. 
I am grateful each time I do my laundry. It reminds me how blessed I am to live in the day of washers, dryers and disposable diapers. I then think of all of the other conveniences I enjoy; like a wonderful hot shower on cold mornings, lights that don't stink like a burnt match or kerosene when you turn them on, music that comes out of a tiny box, my blessed computer, and the most wonderful of all gifts, the phone! I can talk to my kids and grand children who live so far away. I love my life!!
I am grateful for all the times I have spent with sick or grouchy children because it was a time to say, thank you for teaching me patience and tolerance and all of the other virtues I need to have to be like my Heavenly parents.
I am grateful for betrayal and divorce, it taught me to remember the gifts of our good time together, and to appreciate independence. It taught me to learn to truly forgive and solely depend upon the Lord. This experience taught me to embrace who I really am, and to really know myself as a gifted child of God. 
Look at your opposition and begin to see the gifts. They are there, hidden in the mist of darkness. When you see them, light begins to shine from within and you will feel joy.
Join us in this wonderful adventure of seeing the gifts in your greatest trials by sharing and commenting below. You never know who you will inspire, influence, and help by doing so.