How To Get Past the Heat Of The Moment
How To Get Past the Heat Of The Moment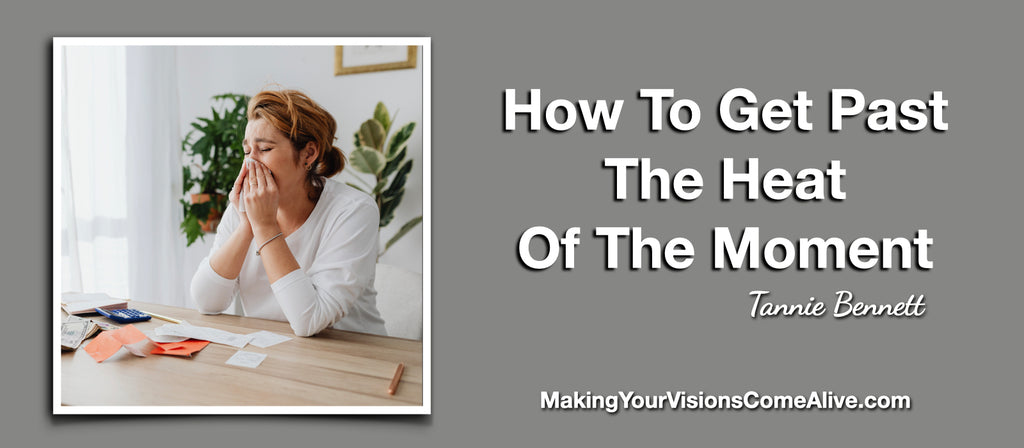 How To Get Past The Heat Of The Moment
Let's begin with many deep cleansing breaths. The reason we begin each day with cleansing breaths is to help you receive a deeper understanding of the material  presented. When the mind is fully oxygenated and the body relaxed, the mind can absorb the information on a fuller, more complete level. If you begin all your work with deep cleansing breaths, it will allow whatever you are working on to be more clearly understood and noticeably accomplished. Deep breathing is a simple yet powerfully effective technique to master.
Today we are going to discuss in more detail the meaning and purpose of our dysfunctional patterns and habits. Life can be really challenging at times but I want you to know, and appreciate that our life's journey is really a perfect plan for the growth we wanted to experience while here on planet earth.
When you enter into a fully loaded heated trigger moment, like I did about thirty minutes ago, all of your frustrations, rage and anxiety will rise in full bloom to the surface. In that moment you might possibly feel really ready to be done with your earthly experience, ready to return home or help someone else get there sooner. Life has many such moments.
In the past, hitting something with such a power-packed charge of negative emotion would have wasted me for days. But today I am proud to admit I have had two huge whopper moments before noon. Yes they were difficult. No I did not understand the problems at the time. In fact I wondered why I was going through them, what they were to teach me and would I survive them alone? Did I need to call for help on these two problems? It was pretty intense.
So what did I do? I cried, I released my anger and frustration, and then I began to pray. The real comfort came when I felt Heavenly arms around me and felt the love I so often feel from my Heavenly support team. Nothing was done other than what I am teaching you here. It was easy. My heavenly support team simply loved me. Then I asked for the help I needed and it was done. I took some deep breaths, got up and again began my day in a new energy, setting a new intention for the next segment of my day, which was to write this piece.
Each opposition experience will teach you something about yourself, something about life, and something about how much your heavenly support team is standing by ready to assist you through those very difficult moments.
Today I learned again, that love can heal anything, that asking for help from Heaven is really the best way to get through the day, and that my Heavenly support team is available, just waiting to serve. I learned that letting go gets easier the more you do it. Even though we will always have experiences with opposition and there will be times we'll feel bad, I learned that those experiences don't have to last any longer than it takes for you to pray about them and let them go.
Like the situation that hit me today, I felt really out of control to do anything about the circumstances. It was a situation that needed immediate attention. I did what I could and then I let it go. Now I trust it will all work out somehow, and the only thought I give to it is that it is going to work out just as I want it to. I allow no other thoughts into my head, especially those that are contrary to the outcome I desire.
Even though I have been working my Journey to Joy program and using my release imageries, tools and techniques for some time now, life continues. At times significant challenges come my way, challenges so big that they stretch me a little further than the last ones did. This is the purpose and intention of our opposition experiences. Each one is really a gift and a blessing. It is just learning to clear the energy of it so we can see the gift and the blessing.
These experiences are also intended to teach us that we are not alone and that someone really does care what happens to us. In the past we have spent so much of our lives not knowing and not understanding, that now today, we feel we have to face our future the same way. We do not. We can have a new and different experience anytime we are ready. It is a matter of choice.
After the energy of the moment was released and I expressed what I wanted instead, I let go and now I am simply trusting God's will. I know it will all work out. And how do I know this? From my past experience of letting go and seeing it all work out.
You may wonder if you will ever get to the place of knowing things will work out and knowing you will make it through a huge trauma in a few minutes. But you will, if you continue on. Becoming a master of anything takes practice and time. Becoming a Master Creator will take practice and time as well.
So for today if you are stressed and frustrated, take in some big deep breaths, offer a prayer for help, expect it to come in and then let no other thought enter your mind other then the end result of what you want.  Trust that it will be so and then watch for miracles.  You can do this, because you are amazing and your life was meant to be fantastic.